Rental Scams to Watch Out for in New Orleans
Trying to find a trustworthy landlord is nerve wrecking but people aren't all bad. I have had good landlords and heard great stories about people who became long term tenants because they loved their landlords so much. There is a home for you out there, you may have to go through a few bad experiences to find it, but each one gets you closer to your ideal. Educate yourself about rental scams and keep trying. New Orleans wants you here.
Craigslist Copy Cat Rental Homes Scam

Finding homes to rent on Craigslist is a gamble that could pay off but that site is a breeding ground for scammers who search other rental property sites like Zillow for pictures and addresses so that they can repost them on Craigslist with a lower price. Always google the address of the home you are trying to rent to see if it comes up on other rental property sites and is listed by a different person with a higher price.
I moved into a 2 bedroom home I found on Craigslist for $650 a month and it looked like it was worth $650 a month but I didn't care I just wanted somewhere to live! If the price is too low and the place is really well maintained it is probably a scam.
Facebook Marketplace Low Price Scam

Searching for homes on Facebook Marketplace is a great idea. I have found my favorite apartment through there once and it was perfect for me. But, Facebook Marketplace is not regulated and anyone can post an ad for a home. Usually scammers will list the home at an extremely low price point even though the home is newly built or renovated. In their listing they will usually use the words – All Utilities included or Pets are allowed if they are not destructive.
If the price is ridiculously low, don't thank God for the blessing, thank God that you didn't fall for that scam.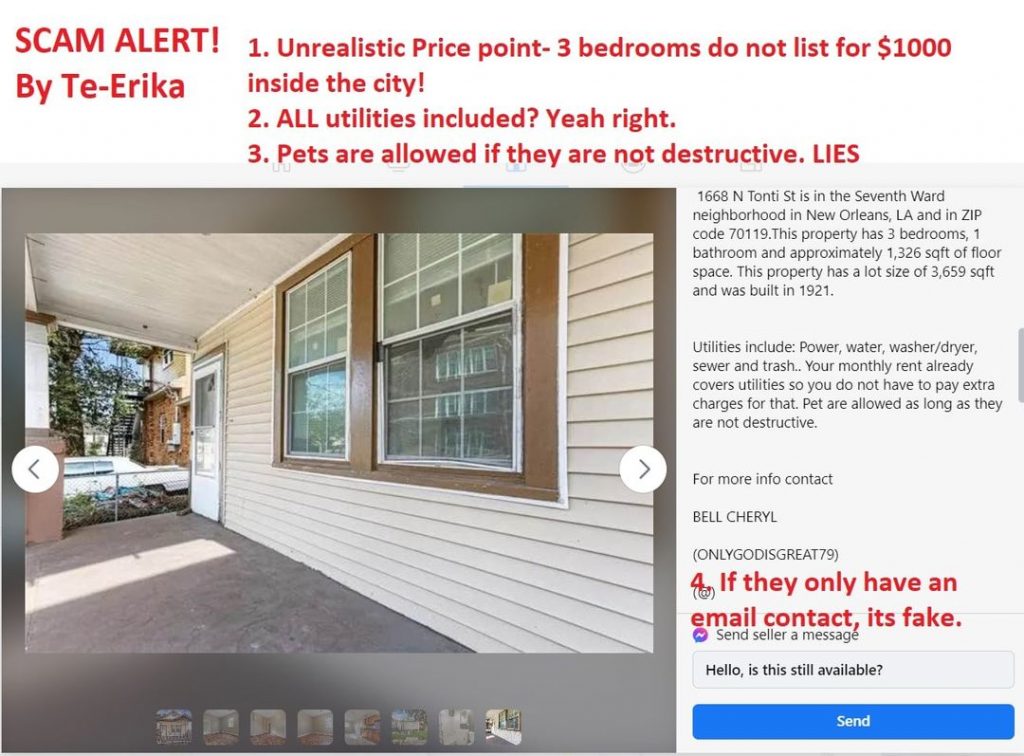 Landlords Who Live Out of Town

It is much easier to develop a relationship with a landlord who lives in town. Scam Landlords who try to rent the property while they are out of town will typically ask for your email address to send photos and an address for the property and then tell you that you can drive by but you cannot go in to see inside because they are out of town and (insert sob story about being sick or caring for a sick relative). They will ask you to send them the deposit and they will mail you the key. This is for sure a scam.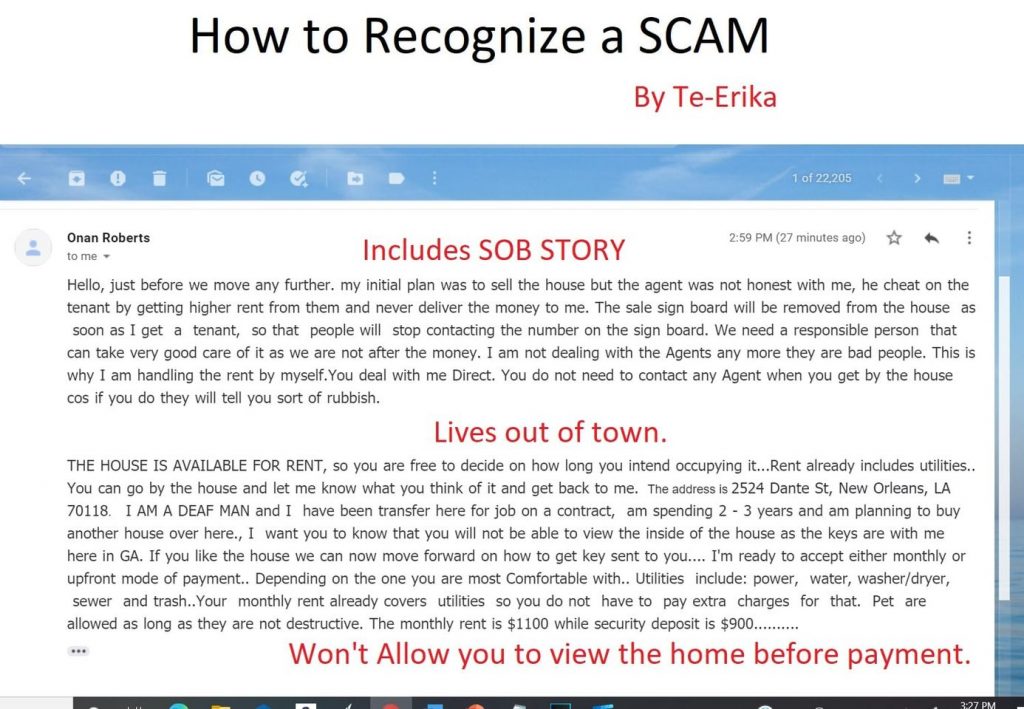 I have rented from two landlords who were in a different state. One worked out GREAT, he did not ask for any money until after I saw the place and he had a friend meet me there to give me the key.
The other landlord lived in Texas and she had a friend meet me at the property to show it to me but she would not fix the things that were important unless I pressed her about it.
Realtor Referral Scam

Realtors receive a commission from every apartment they rent but it has to be a property where they have an agreement with the owner. If you find a private apartment on your own and send them the address so they can contact the owner for you they may say they looked on the MLS and the apartment is taken already. This isn't always true. Sometimes realtors will say the apartment is taken because they won't get a commission if you don't rent through a landlord that has not made an agreement for commission with them. Look into the private home anyway on your own.
Application Identity Scam

There is a home out there for you and you won't feel pressured into it. If a potential landlord asks for a rental application before showing you the home, it is likely that they are fishing to steal your personal information to steal your identity. Don't fall for it. All real estate professionals and landlords understand that people want to see the home first. If you feel that you are being pressured into a rental situation it is likely not a good situation to walk into. Keep looking.
Landlords Renting Homes AS IS

If you find a landlord who is willing to allow you to move into a home before it is properly cleaned and maintenance issues fixed it is very likely that they won't be there when you need them to do a repair in the future.
Once I was about to rent a home and the landlord offered me two weeks free if I would do the painting, yard work and minor repairs myself. While this seemed like a nice offer, when I spoke with the neighbors, they all said that he was a slum lord and would never be back to do any repairs again.