Do I Experience Racism as a Black Woman in New Orleans?
I was a tired but happy nomad, traveling from city to city, tasting the thrills of exploring new places when New Orleans grabbed me. I had turned tragedy into an adventure but I had no idea that my rough beginning would lead me to the fulfillment of my biggest dreams. I visited New Orleans all alone and fell in love with the city in no time. I knew I had to make a home here and once I made the decision, I never turned back.
I have lived in major U.S. cities and small towns; Houston, Miami, Fort Lauderdale, Atlanta and Los Angeles to name a few. I recognize major differences between New Orleans and every other city I have lived in, namely how I feel as a Black woman in New Orleans. Being a Black woman is not just about ethnicity or culture, it is an experience. You recognize that people see your color first and treat you according to the stereotypes they have decided upon in their minds. I got used to it, but I have a firm understanding that racism can't stop me from achieving my goals because I am not asking anyone for permission to achieve them.
I grew up in Miami; that city is definitely segregated and the racism is rampant. I lived in Los Angeles for many years; that city is definitely segregated and the racism is rampant. In those cities, you feel the racism everywhere you go. You feel the disdain and the negativity towards you based on your race and it is extremely disheartening.
New Orleans may have its areas where certain races are more prominent than others however, I do not believe that I have ever experienced racism in this city. If I have, I was completely unaware of it because I was so enthralled by the sweet sights and sounds of so many Black people in leadership in New Orleans.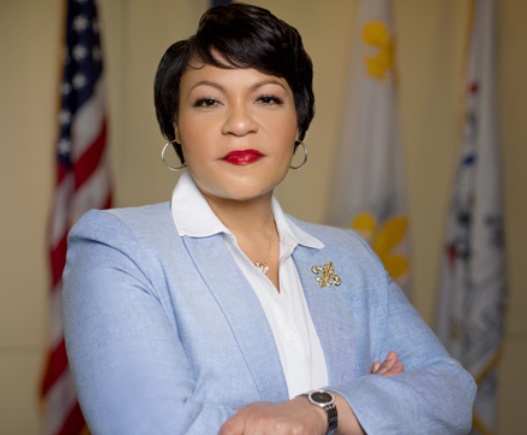 New Orleans itself is nearly 60% Black and when you turn on the news you see Black anchors. When you open the newspapers, you see our Black female mayor, Latoya Cantrell. During election time, poster after poster featured Black professionals running for public office. When you call any public office or seek help in any professional space, you will hear and see Black people answering the calls, Black people as executives, Black voices on the company voicemail and Black people owning the businesses. Never in my life have I ever seen so many Black professionals representing as the faces of so many businesses. No other city I have ever lived in has such a Black face and it is exhilarating to experience! Seeing Blackness shine in New Orleans relieves me of the pressure of believing that my Blackness is another hurdle I have to overcome in my quest for personal and professional fulfillment.
It's okay to be Black in New Orleans. It's okay to be who you are without fearing that there is a calculated system holding your race against you. In every city I have lived in, I defined myself as a Black woman first, because I knew that was how others viewed me, yet in New Orleans I no longer feel that my Blackness is the defining factor of who I am. Watching so many Black professionals live out their dreams in this city has inspired me to go even harder after my own dreams. I have become more of the best of me since moving to New Orleans.
Yes, I have had many terrible experiences with people in New Orleans. I have had to stand up for myself by myself and try to pave my own way while enduring targeted attacks online and in person. Even through the insults and the aggression, I would not blame their aggression on racism. I truly believe that those who were overtly rude and vicious toward me knew I was alone and had no one to stand with me so they bullied me thinking that a woman alone would break. I don't believe the bullies in New Orleans were provoked by my skin color because many of them were Black. I believe the bullies saw my drive, intelligence and boldness as a threat and they lashed out trying to subdue it. It didn't work.
Maybe I am just choosing my perspective and this is what I have to tell myself to feel better about so many rough exchanges with people here in New Orleans. Even though I understand that I choose my perspective, I have never felt the freedom to not acknowledge my Blackness before any other trait like I do here. The truth is, I don't feel like a Black woman in New Orleans; I feel like a successful woman.
This woman lives in New Orleans where she looks around and sees Black faces just like hers living out their dreams, supporting their families, owning homes and holding positions in public office. This woman has had the opportunity to step out of my cloak of Blackness and begin living my life representing who I truly am, a community leader, entrepreneur and blessing to many.
I thank New Orleans for giving me such a rewarding culture shock and awakening my potential as a woman. Instead of hiding behind the fear of stereotypes and my own self judgment of my limitations based on my race, New Orleans allows me to be the best of me, not just the best Black woman, but the real woman with value inside. New Orleans has never cursed me for being a Black woman, and anyone here who has tried, I didn't notice because I am so focused on the opportunities that I have the chance to create here. There is too much Blackness in New Orleans to deny us our chance to prosper. New Orleans isn't racist to me. New Orleans affords the opportunity for my Blackness to be a accessory to the way I shine.