Try Not To Make Sense of Anything
Advice from a NOLA STAR
When Stephanie Kaufman isn't creating the pop culture and custom prayer candles that we see everywhere around New Orleans, she's heading to the levee in the Lower 9th Ward to meditate and center herself so that she can take on the hectic lifestyle that comes with running a thriving business.

Stephanie, the owner of Mose Mary and Me, is originally from Ohio. She made the trek to New Orleans five years ago after a tough time in her life. As she recovered from a breakdown, she recalled how much New Orleans had comforted and thrilled her as a teenager so she decided to create a fresh start.
The fresh start paid off. Five years later, Stephanie's life has healed in all the ways she hoped it would. She now has a successful business that has grown so much that she recently opened a store in the French Quarter at 824 Chartres St.
A former comedian, Stephanie now uses her prayer candle making skills to add smiles to the lives of our community.
"I have heard so many great stories over the years about what the candles have meant to people, either big fans of a great musician or just providing comfort in a moment of needed solace." Stephanie says. "I feel very fortunate."
But we are the fortunate ones. Stephanie's name is often mentioned when discussing the brightest stars in the New Orleans community. She is glad to be a source of positivity in the city that offers her the same type of love she enjoys giving. Even during the tough and lonely days of the pandemic, Stephanie found that the people of New Orleans continued to be her saving grace.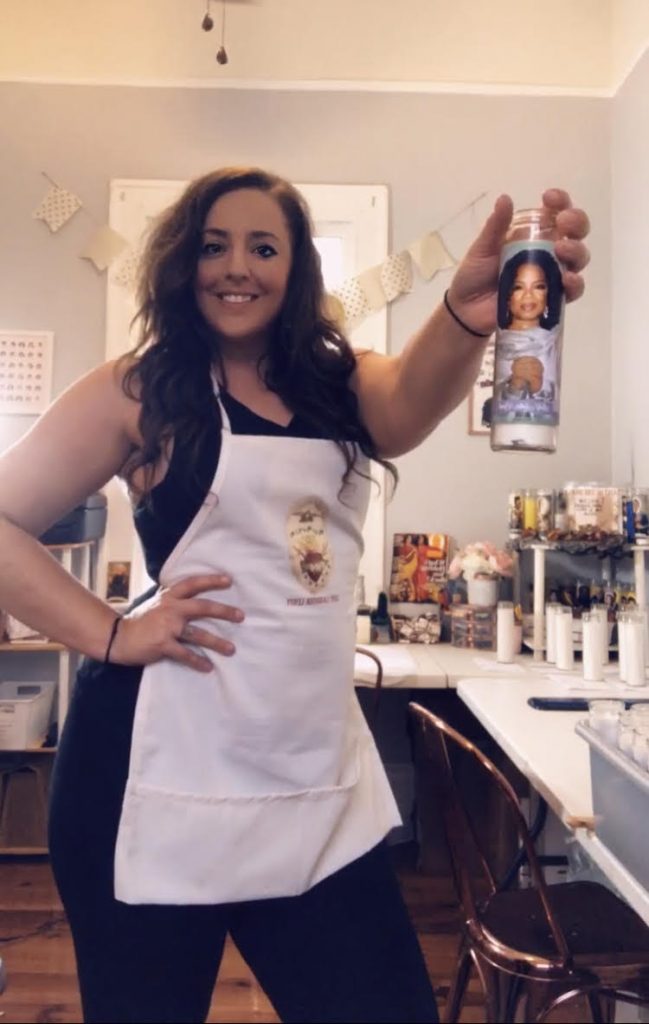 When the pandemic quarantine lifted her bass playing neighbor Sylvester decided to host a series of outdoor socially distanced block parties for the neighborhood to enjoy.
"I remember the first time I came home and drove down my street and heard the live music," Stephanie recalls. "It was after an incredibly long day but I didn't care, I parked my car and ran over. 'Everyday People' was playing and it was music to my soul."
In a city known for its outrageousness, Stephanie encourages those new to New Orleans to take the time to accept that things won't be what they expect.
"My advice would be to not try to make sense of anything." Stephanie shares. "The potholes, the uncertainty of hurricane season, the water pumps, why some things work and other things seem not to. This city is to be enjoyed, to be lived, not to be analyzed or poked and prodded. The sooner you realized not a lot makes logical sense, the sooner it'll make sense in your bones."
Share the Love!
Mose Mary and Me
824 Chartres St (The French Quarter)
Follow Stephanie on Facebook & Instagram