Julie Bowers-VanCoutren: NOLA's Most Devoted Dog Rescuer
He's peeing on the costume!" I shriek as I watch the 85 lb black Great Dane Mix lift his hind right leg and urinate on one of the costumes that I had been admiring.
"Oh!" Julie Bowers-VanCoutren exclaims and shoos the dog away, taking a few steps to inspect the garment, in disbelief.
The naughty dog backs away slowly before tucking his body underneath the bed, peeking out at Julie with sad eyes.
"See. He's sorry." Julie explains softly. "You know, he's a rescue. His family packed up a UHaul and drove away, leaving him behind to figure out what happened and now he's traumatized. He didn't mean it."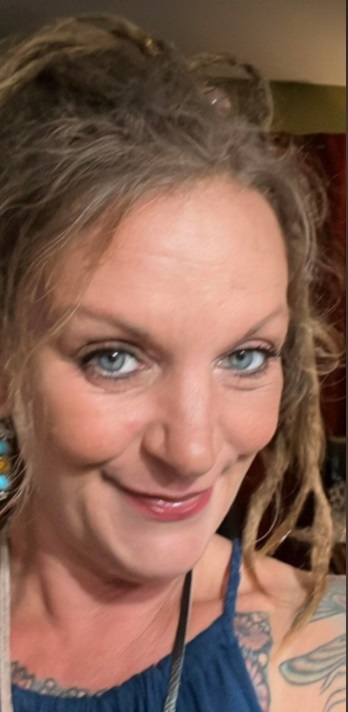 Julie, 49, a resident of Algiers on the Westbank in New Orleans has a special desire in her heart to rescue abandoned and mistreated dogs. She has lived in New Orleans for 12 years and has made quite the name for herself as a devoted dog rescuer after more than 25 rescues in 3 years. When she sees a dog being mistreated she will do whatever it takes to rescue it and then bring it to her home to nurture it back to health. Her protocol for each dog rescue often includes a trip to the vet to be spayed/neutered and checked out for health issues and then tagged for identification. Each rescue costs Julie at minimum $500, not including the cost of food, grooming and other basic needs while she searches for a forever home for each rescued dog..
Julie began rescuing dogs after surviving an abusive relationship which culminated in her former partner holding her captive in her home for nearly a week. She found it incredible that of all the people she knew in the community after hosting weekly parties at her home, no one had noticed that she was missing. When she came out of the ordeal she took the time to heal emotionally by reading and spending time with her grandson Keylan and her dog Sue. While spending countless hours in the quiet company of her dog, Julie had an epiphany.
"I realized my best friend was that sweet pup that was always there for me," Julie recalls. "It opened my eyes to see these beautiful creatures really are our best friends."
This realization triggered her to be especially appreciative of the dogs that she encountered around the city. While visiting a different neighborhood she noticed two dogs tied up outside without shelter in the pouring rain, literally covered in mud. She climbed over the fence to try to help the dogs but before she could reach them the owners came out and threatened her. She asked them to give her the dogs so that she could take care of them and they refused. She watched as the dogs sat cowering in the rain and mud before she walked away, promising to figure out how to come back to help them.
She went to social media to explain the animal abuse to her friends and followers and within hours she had collected $500 in donations. The next day she went back to the house to chat with the owners, offering them the $500 in exchange for the dogs. They gladly agreed and sent the dogs home with Julie, who then took them to the veterinarian for health checks and shots. She brought them home and cared for them for 2 months before she found another home for them.
Julie continues to rescue dogs, often losing sleep at night if she finds a dog that is being mistreated and she does not have the space in her home to rescue it right away.
While she was in the midst of an abusive situation, she wished that someone had stood up for her and rescued her but no one did. As a result, Julie is careful to pay attention to her surroundings with a keen eye, always on the lookout for helpless dogs who are not being cared for properly.
"After the abuse I endured," Julie explains. "I learned that I had a passion for speaking up for the voiceless."
DONATE to Julie's Dog Rescue Program
VENMO – @Julie-Bowers-VanCoutren
EMAIL Julie to meet her rescue dogs – JulieVanCoutren[at]gmail.com